Centurybox offers you its latest addition to the gift box line, the rigid cardboard box "The Loop". This innovative concept further reduces the ecological impact of a traditional luxury gift box. First of all, the biggest difference is the closing system that is completely new in our range. No magnets, glue or velcro, a simple tab that fits into a slot is now enough to secure this box. The tab closure system allows the box flap to be locked with greater or equivalent resistance than with a traditional magnetic closure.
The Loop gift box will be the natural successor to the Wonderbox magnet closure box. This rigid cardboard gift box is probably the most innovative environmentally responsible luxury packaging solution we have developed since the Wonderboxes.
THE LOOP, SINGLE COMPONENT GIFT BOX
First of all, this packaging solution is entirely made of 100% recycled cardboard 1200g/m², with a cover paper of your choice:
FSC,
100% recycled,
kraft tinted in the mass,
etc…
With a range of more than 500 possible papers for your projects, you will inevitably find the cover paper that suits you. Moreover, we can also offer you a wide choice of inks, including natural options. For example, it is possible to opt for soy ink, both in digital printing and Pantone printing.
We have removed all magnets to make our luxury gift boxes 100% biodegradable and recyclable. It is very important for us to continuously develop environmentally responsible packaging solutions, in order to continuously offer you packaging solutions in line with your expectations.
Description: Gift boxes with tab closure. 100% biodegradable and recyclable gift box
Handles: it is possible to add handles
Materials: 100% recycled cardboard of 1200 g/m², covered with the paper of your choice (FSC, 100% recycled, kraft tinted in the mass, etc…)
Printing: Printing with soy ink, offset, embossing, hologram, hot printing, flocking, varnish, printing inside the box, laser, embossing …
Options: matte or glossy lamination, fabric covering …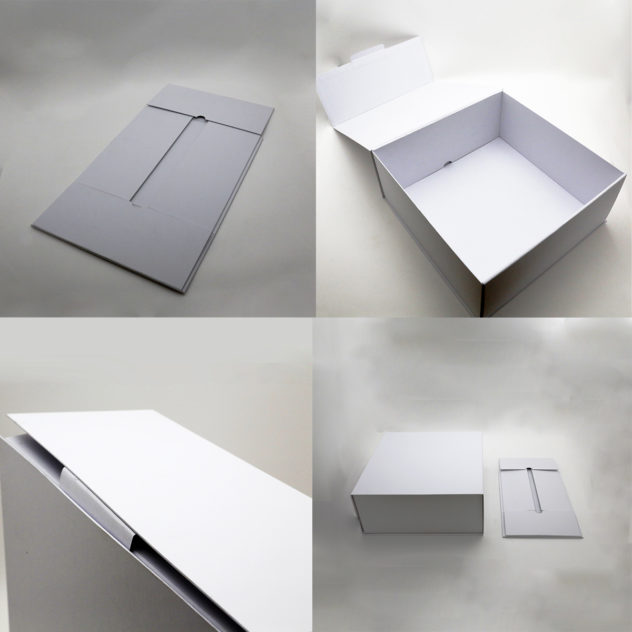 ORDER THE LOOP GIFT BOX
This model will soon be available on Centuryprint starting from 50 units, so you can personalize it in very small quantities.
You will also soon be able to order this package from 25 units on Centuryshop, but without printing.
We are now able to adapt this packaging from 1000 units. You can adapt the format, the materials used or the cover paper applied. Of course, you can also fully customize the exterior with the design of your choice.