The " Sharpedge " rigid cardboard boxes are very delicate and luxurious cardboard boxes. The special feature of this packaging is that the edges are very thin and delicate, unlike most other gift boxes. If you look at the box from above, you will notice the difference in the corners.
We offer you to customize this packaging completely from 1000 units, we do not offer this model yet on our webshops. This box design is innovative for our group, it combines elegance and luxury, while being robust and strong. This packaging can easily contain a wide variety of objects, cosmetics, delicate ready-to-wear or even exceptional culinary dishes.
PREVIOUS WORKS
We have developed this type of concept for some of our partners in the past. Recently, a jewelry store was supplied with these sharpedge boxes, the shape of the sharpedge gift box goes very well with jewelry. Plus, by using a pretty design, you can immerse your customer in your brand's world. You can see in this picture that the 2 sides of the box fit perfectly, the top is a little bit bigger than the bottom.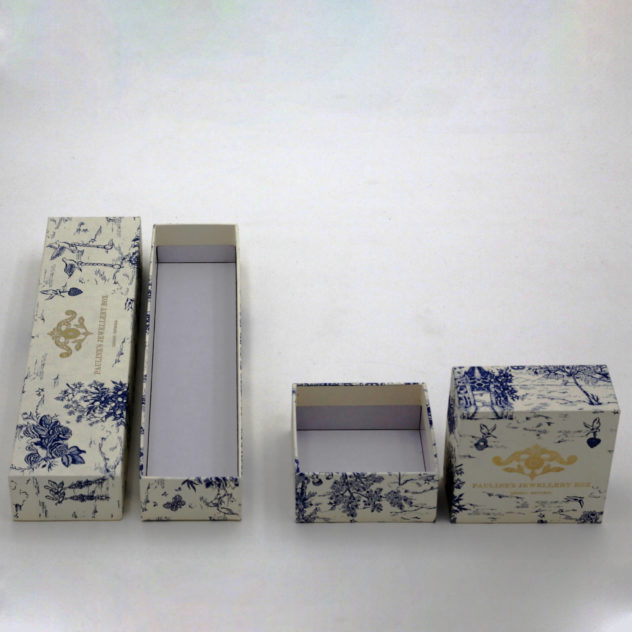 ORDER A SHARPEDGE GIFT BOX
On Centuryprint you can order personalized packaging from 50 units and with a delivery time of less than 15 days. We have not yet put this product online, but alternatives exist, such as the Campana box with lid.
At Centuryshop, you are able to order generic packaging without printing from 25 units and in less than 72 hours. We offer similar solutions such as the Campana bell box.
Centurybox Group offers you the possibility to fully customize your packaging from 1000 units. By opting for this packaging solution offered by Centurybox, you can adapt this concept to your specific needs.