For several years, Centurybox Group has been supplying advent calendars to several partners on a yearly basis. We make them entirely according to the expectations of the final customer, it is important that this gift box, in the literal sense, surprises its recipients. We have already collaborated with hotels, chocolate shops and delicatessens, the possibilities are endless.
This concept is currently only available in 100% personalized. The options for personalizing the advent calendar are very varied. You can change the format, the material, the size of the surprise containers… This personalized advent calendar will offer you many advantages.
EXAMPLES OF PERSONALIZED ADVENT CALENDARS
First of all, you can use it to display an assortment of your most exquisite products. For example, the Luxembourgish chocolate factory Genaveh wanted to surprise its most loyal customers. Each box of the calendar was filled with a chocolate in a different variation. This variety in the advent calendar offers the consumer the possibility to discover new products and to taste the products he likes from his favorite chocolate factory.
Then, you have probably also noticed the recrudescence of advent calendars in all its forms these last years. The most exclusive brands now offer them annually, without forgetting each brand which has its own variation of its range. You will also notice the closing with ribbons on some models, this brings a little more elegance to your packaging.
This type of packaging can be a real asset to help build your brand image. Indeed, this packaging is original and helps the recognizability of your brand, it highlights your products.
Description: Advent gift box with number of boxes to define
Handles: Can be possible
Materials: Rigid cardboard between 600 and 1800 g/m², fabrics, strings and ribbons,…
Possible printing techniques to personalize this product: offset, embossing, hologram, hot printing, digital printing, screen printing. This type of project can be fully customized, we do not offer this concept (for the moment) on Centuryprint or Centuryshop.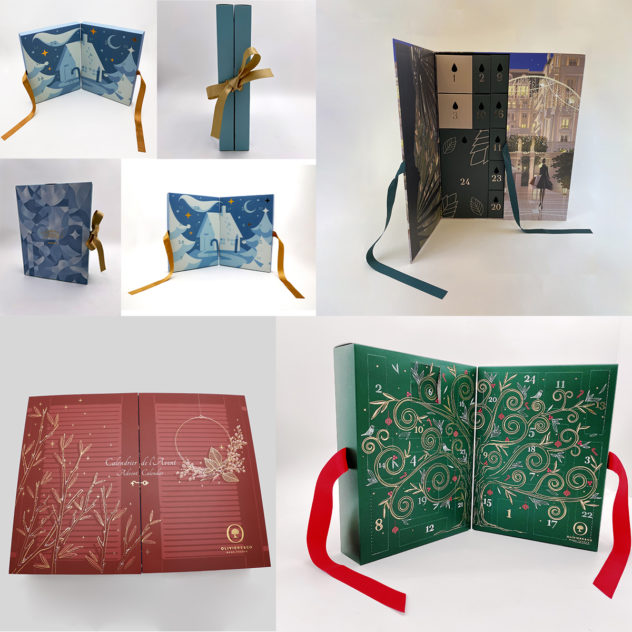 ORDER THE PERSONALIZED ADVENT BOX
Customizable advent boxes are not yet offered on Centuryprint. We are working to develop an advent calendar model that can be easily personalized in very small quantities.
On Centuryshop we do not offer a customizable advent calendar, we only offer generic packaging.
We are able to develop the custom advent calendar you want very easily. We invite you to contact us directly to discover the possibilities.